Heart Charm Pearl Bracelet Cremation Jewelry - 8" Long
$9.99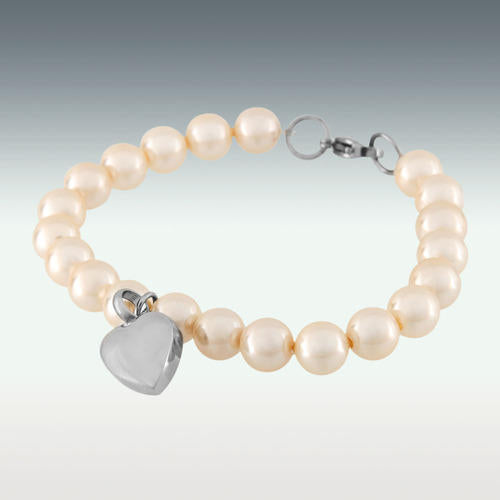 This jewelry is designed to hold a small portion of ashes, hair or dried ceremonial flowers.
Outsize Size: 17/32"H x 33/64"W

Volume: 1 cubic inches
Includes a funnel and instructions to fill and seal the cremation pendant.
This Stainless Steel Charm Bracelet is created and designed by a professional jeweler. Our jewelers create each bracelet one at a time with a highest level of precision and detail possible. The center holds a small portion of cremated remains, a lock of hair, burial soil or dried ceremonial flowers and easily seals with a threaded stopper screw. We encourage using a modeling glue or epoxy to make a permanent seal. This bracelet is 8" long and has a clasp closure
IMPORTANT: We do not do the engraving.  Most local trophy shops will do the engraving if you bring in the item to them and drop it off.  You might want to call around and get pricing on getting this item engraved in your community.
LIKE our nonprofit's Facebook page by clicking here to stay up to date on new items and daily news.  You can also subscribe to our newsletter by clicking here. 
Heart Charm Pearl Bracelet Cremation Jewelry - 8" Long

Description

This jewelry is designed to hold a small portion of ashes, hair or dried ceremonial flowers.

Outsize Size: 17/32"H x 33/64"W

Volume: 1 cubic inches

Includes a funnel and instructions to fill and seal the cremation pendant.

This Stainless Steel Charm Bracelet is created and designed by a professional jeweler. Our jewelers create each bracelet one at a time with a highest level of precision and detail possible. The center holds a small portion of cremated remains, a lock of hair, burial soil or dried ceremonial flowers and easily seals with a threaded stopper screw. We encourage using a modeling glue or epoxy to make a permanent seal. This bracelet is 8" long and has a clasp closure

IMPORTANT: We do not do the engraving.  Most local trophy shops will do the engraving if you bring in the item to them and drop it off.  You might want to call around and get pricing on getting this item engraved in your community.

LIKE our nonprofit's Facebook page by clicking here to stay up to date on new items and daily news.  You can also subscribe to our newsletter by clicking here. 

 

Reviews
Customer Reviews
Reviews (0)
Questions (0)