"Overdose Awareness Black Balloon Day March 6th" - Wristband
$1.99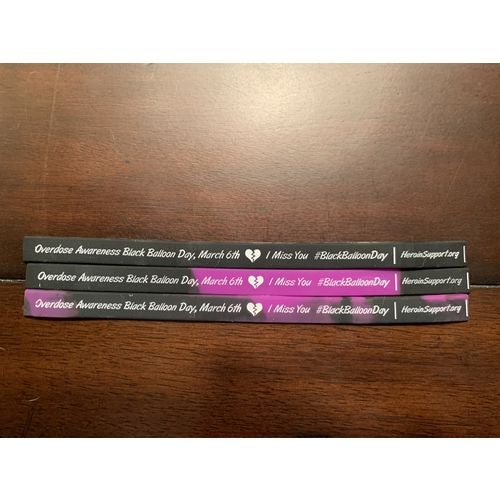 SELECT A WRISTBAND COLOR TO ORDER AND ADD TO YOUR SHOPPING CART.
History Behind #BlackBalloonDay
Black Balloon Day has become a national and international event, bringing awareness to overdose deaths. As with many things with the opioid epidemic, Black Balloon Day began with a family's' loss. Diane and Lauren Hurley began Black Balloon Day in remembrance of Greg Tremblay. Tremblay, a father of four, is the son-in-law of Diane and brother-in-law of Lauren and died of an overdose when he was 38 years old on March 6, 2015.
Lauren and her mother hope one day March 6th  will be recognized as Black Balloon Day across the world to raise awareness, bring people hope, and let them know they aren't alone.
"To show them they aren't the only people (that) lost a parent or (lost) their children. Every day this is happening," she says. "Even if one person sees a balloon and thinks 'I could be the person that someone could be hanging the balloon out for'…in my eyes we did something right."
"Overdose Awareness Black Balloon Day March 6th" - Wristband

Description

SELECT A WRISTBAND COLOR TO ORDER AND ADD TO YOUR SHOPPING CART.

History Behind #BlackBalloonDay

Black Balloon Day has become a national and international event, bringing awareness to overdose deaths. As with many things with the opioid epidemic, Black Balloon Day began with a family's' loss. Diane and Lauren Hurley began Black Balloon Day in remembrance of Greg Tremblay. Tremblay, a father of four, is the son-in-law of Diane and brother-in-law of Lauren and died of an overdose when he was 38 years old on March 6, 2015.

Lauren and her mother hope one day March 6th  will be recognized as Black Balloon Day across the world to raise awareness, bring people hope, and let them know they aren't alone.

"To show them they aren't the only people (that) lost a parent or (lost) their children. Every day this is happening," she says. "Even if one person sees a balloon and thinks 'I could be the person that someone could be hanging the balloon out for'…in my eyes we did something right."

 

 

Reviews